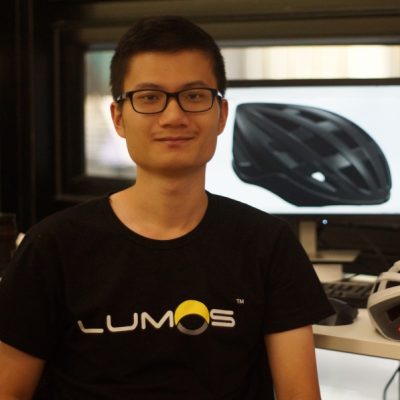 Jeff Chen
Co-Founder, Lumos
Jeff is a maker, hacker, and the other creator of Lumos. While cycling in Boston, he had numerous instances of close calls with drivers and had purchased many sets of bike lights to replace the ones he frequently lost before he built the Lumos prototype and starting riding around with that instead.
A mechanical engineer by training and hacker by disposition, Jeff is a full stack engineer with a wide range of experience and expertise in electrical engineering, electronics, microcontroller development and mechanical design. Several of the projects and designs he developed and built have gone on to win multiple awards and prizes including 2nd place at the AVIC National Amphibious Aircraft Design Competition, and 5th place at the annual AIAA Design Build Fly competition where he was part of the team from MIT.
Jeff has a B.S. in mechanical engineering with first class honors from The Hong Kong University of Science and Technology, and was a visiting scholar at Harvard College where he helped create Lumos and built its first prototypes.
Eu-wen Ding
Co-Founder, Lumos
Eu-wen is an entrepreneur, inventor, and one of the creators of Lumos. Struck by the lengths to which he and many of his fellow Boston cyclists had to go to light up and be visible with arrays of lights, reflectors, and jackets, he felt that there had to be a better way. This inspired him to develop Lumos.
Previously he was a co-inventor of Embrace, an innovative low-cost infant warmer for babies born premature and low birth weight in the developing world. Embrace has received numerous accolades and awards including the 2011 INDEX Design to Improve Life Award and The Economist Innovation Award in 2013. The Embrace warmer has now been used by over 150,000 babies around the world, many of whom would have had few alternatives for safe warming and incubation without Embrace. His hope is to be able to touch as many lives with Lumos as he had the opportunity to do with Embrace.
Eu-wen has a B.S. in mechanical engineering from Northwestern University and was getting his MBA from Harvard Business School before leaving to start Lumos.
Marcus Leung-Shea
Co-Founder and COO, Origami Labs
Marcus is the Co-Founder and COO of Origami Labs, an IOT/Wearables company headquartered in Hong Kong. He's responsible for executing company vision through talent acquisition, financial planning, IP strategy, production and logistics.
Previously he served as a Director at CEB, an NYSE-listed research and management consulting firm in the U.S. where he managed a global team that advised Fortune 1000 companies on wealth management, back office operations, and marketing best practices. In 2012 he returned to Hong Kong to head up his family's specialty chemical distribution company with operations in Hong Kong and China.
He's actively involved in the startup community in Hong Kong and serves on the executive committee of the HKUST MBA Alumni Association. He has a B.A. from Johns Hopkins University in International Public Health, an M.S. from George Mason University in Healthcare Management, and his MBA from HKUST.
Sam Lim
Chief Transformation Officer, Prudential Hong Kong Limited

Sam Lim is responsible for transforming Prudential's business for the future to meet the new demands of customers, financial consultants, partners and employees.
Sam has devoted over 10 years to corporate development and strategy. He joined Prudential in 2005, working in Strategy and M&A for Prudential Corporation Asia before heading Strategy and Projects at Prudential Hong Kong Limited. Sam formerly led the Customer Group, a dynamic development team encompassing Customer Service, Customer Experience and Customer Analytics. Under Sam's watch, Prudential expanded its use of data analytics, enhanced customer service operations and improved overall customer experience. Sam holds a BA from Cornell University and an MBA from Massachusetts Institute of Technology.
Tim Lui
Co-Founder, Heartisans
Tim Lui is from a machine learning and bioinformatics background. He cofounded Heartisans with the aim of helping heart disease and hypertension patients to improve their heart health. He is currently developing the Heartisans Solace, a smartwatch to accurately measure blood pressure and electrocardiogram, at the convenience of the wrist. Heartisans Solace measures Blood Pressure by measuring Pulse Transit Time. Unlike cuff-based monitors that squeeze the arm, Heartisans Solace will give users complete freedom and comfort to measure blood pressure on the spot, at any moment.  With the accurate heart data captured and machine learning algorithm, he is aiming to capture coronary events early on, such as myocardia infraction and cardiac arrest.
Anvil Ng
Co-Founder and CEO, CWB-Tech
Anvil Ng is the co-founder and CEO of CWB-Tech and has nine patented inventions in the US and China. With over 20 years of management experience in in R&D, IP, operation and business development, Anvil walked through the process from start-up to IPO.
Starting his career as antenna engineer and after received his master degree in Hong Kong University of Science and Technology, Anvil soon joined a startup of 2 staff as founding members. Over the years, Anvil set up and operated multiple R&D sites in mainland China, and successfully launched a wide range of innovative products from smart phone to educational platform. Anvil exited in 2012 after the company went IPO (HKEx:1822) in 2011 in Hong Kong Exchange, with over 500 staff world-wide.
With the entrepreneur spirit deep within, Anvil started CWB-Tech with his technical team in 2012. Aiming at sports and prevent injury applications, the company invented a motion analysis system – PoseEngine.  With its uniqueness of low power consumption, excellent accuracy and flexibility in placement, PoseEngine received Hong Kong ICT Award Gold Award 2016 and selected as show case in TechCrunch in the same year.  PoseEngine combined sensor based wearable technology and real-time posture analysis algorithm, it had been adopted in professional running and golf applications, with over 7-million of sports oriented data being processed.
CWB-Tech and Anvil further set foot on customer analytic A.I. for corporations and medical professional on customer profiling and business engagement in 2017.